FREEZE DRIED COFFEE
Namyang Freeze-dried Coffee is produced in one of the
world's latest and technologically advanced freeze-dried coffee facilities,
being delivered to more than 60 countries around the world.
On top of that, South Korea, a highly strategic location for trade thanks to
FTAs with 56 countries enables our partners to enjoy free duty rates
and us to flexibly source coffee beans from any origins.

Due to supply chain disruptions caused by the COVID-19 pandemic,
we are currently unable to source enough certified green beans for some buyers
with the Rainforest Alliance Certified™ seal and/or UTZ label.
This means that some particular products may not currently contain
any UTZ certified and/or Rainforest Alliance Certified ingredients.
We apologize for the inconvenience. As soon as this supply shortage is resolved,
we expect to return to sourcing from UTZ certified
and/or Rainforest Alliance Certified farms for these products.
We will also purchase a volume of certified green beans equivalent to what
we would have used during this period, doing our part to help
support farmers and protect the environment.
TECHNOLOGY
"Exclusive Freeze Dried Technology"
We oversee the complete manufacturing process through the full-cycle coffee system
and constantly monitor product quality and sensory attribute.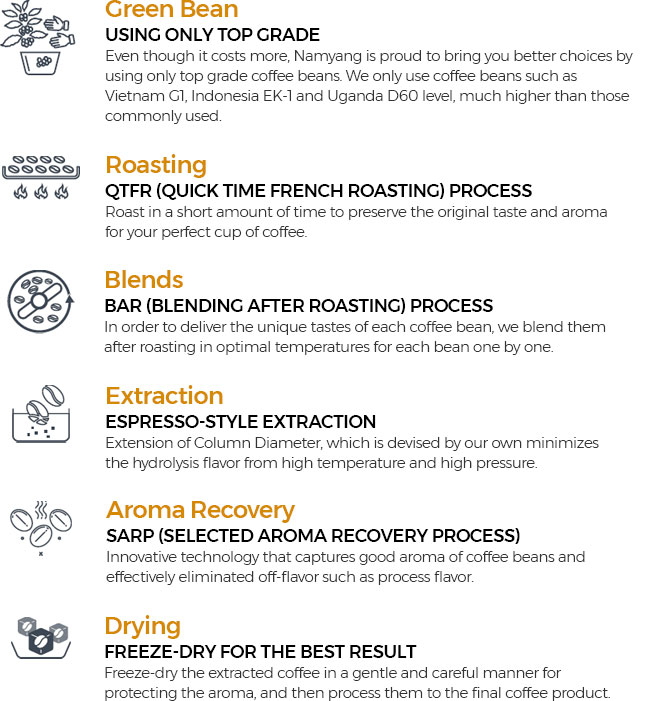 PACKAGING
"Freeze Dried Coffee Packaging Solution"
CERTIFICATION
Namyang Ingredients maintains the highest standards for its coffee products,
Never compromising on quality and valuing the trust of consumers and partners above all.